If you do not know where you come from, then you don't know where you are.
The above is a well-known saying to show that knowing our history is important to seeing where we're at.
For SharePoint, we can adjust the saying to say something like this:
If you do not know where SharePoint came from, then you don't know where SharePoint is.
Let's find out the history of SharePoint to see how it's evolved into what it is today.
The beginning of SharePoint
Almost 20 years ago, people within organizations asked for their own websites.
These websites were for internal use only – only seen by their team.
They requested these websites so they could have a place to store and work on their files together.
To keep organized.
These websites helped them accomplish their tasks.
Initially, IT departments tried to handle all these requests for issuing out new websites.
As website creation requests started to grow in popularity, IT departments became overwhelmed.
Why?
To make new websites was not easy at the time.
This was before WYSIWYG (What you see is what you get) functionality for making a site like we have now.
But what if it could be simple for both technical and non-technical persons in an organization to create their own small websites for work?
That would be amazing!
With that dream…SharePoint was born.
2001
In 2001, Microsoft released the first version that resembled what we know today as SharePoint.
It was a combination of two products: SharePoint Team Services and SharePoint Portal Server 2001.
SharePoint Team Services (or STS for short) was made to allow employees in a company to work together within websites.
Weren't websites within organizations already being created as we mentioned before?
Yes. But here's was the difference with these websites:
They included work functionality needed to be productive – right away.
As Microsoft's deployment guide then said:
"By using SharePoint Team Services, anyone can create, author, and administer ad hoc team Web sites that help a team organize and advance on a project."
Here's a quote from Jeff Teper about the release, who is now known as "the father of SharePoint":
"Organizations today want to ensure that the valuable corporate knowledge stored in documents, Web servers, file servers and e-mail is readily available to employees making important decisions each day."
Cookie cutter websites that you can make for each team quickly.
It's like WordPress for enterprises.
Like cookie cutters websites.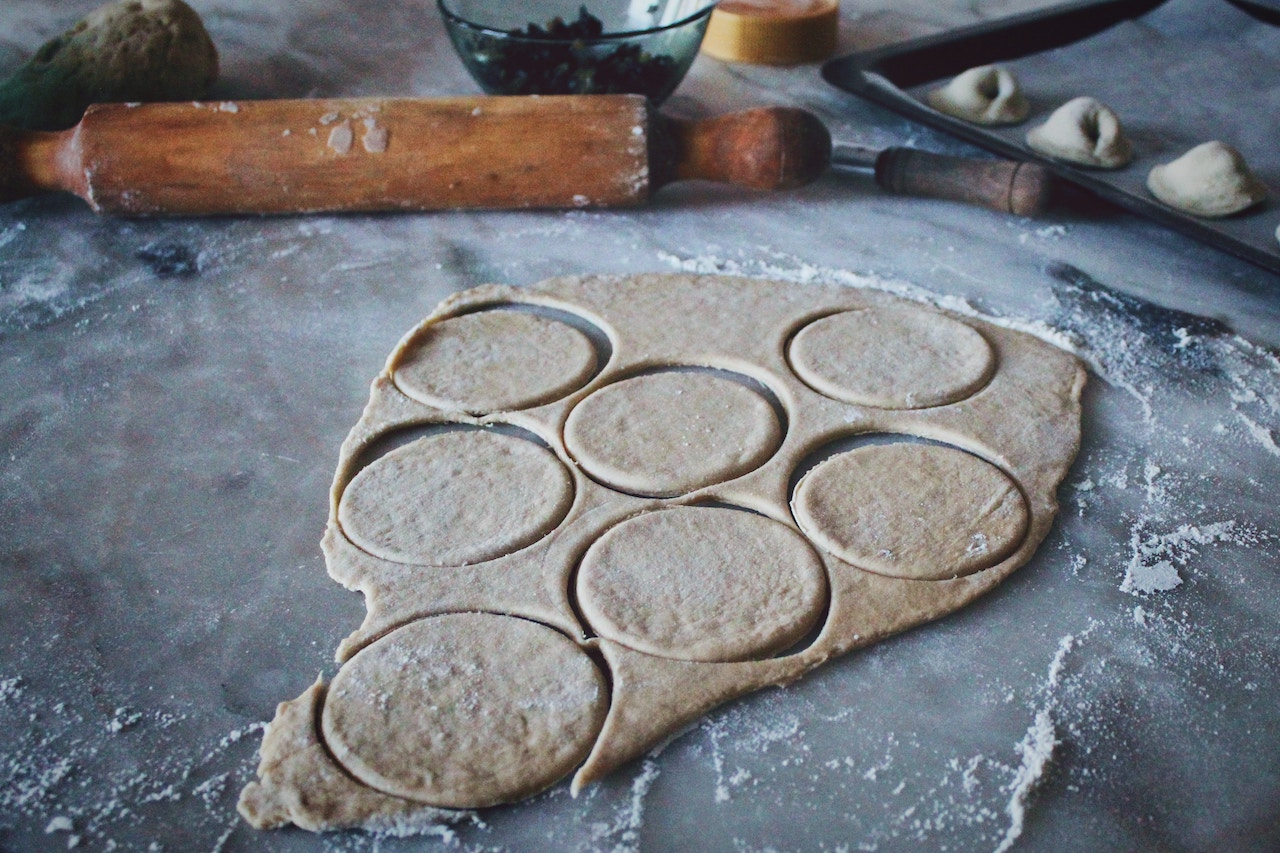 How cookies get made..mmm
SharePoint included useful functionality on each web page that helped people stay productive.
The hardware recommendations to run SharePoint 2001 were small in comparison to what machines are capable of now:
Intel Pentium III–compatible processor minimum.
256 megabytes (MB) of RAM minimum. (Almost all our mobile phones now have more than this)
550 MB minimum of available disk space.
So what kind of functionality was included?
Here are main features in SharePoint at the time:
Shared calendars
Contact lists
Announcements
Events lists
Tasks lists
Links lists
Document storage
SharePoint also had compatibility with Microsoft Office products.
SharePoint also allowed for you to save your documents, spreadsheets, addresses, contacts, and calendars from Microsoft Office applications like Microsoft Word, Microsoft Excel, Microsoft Outlook – directly into a SharePoint web site.
SharePoint Portal Server (or SPS for short) was a separate piece of software that could work together with SharePoint Team Services.
SharePoint Portal Server wasn't required to run SharePoint Team Services, but if you did use it, it would add useful functionality.
With SharePoint Portal Server, more powerful searching capabilities were at your fingertips, and enhanced document management made storing your files simple to do.
[Source: Sulava]
A new major advantage for larger organizations: the ability to search for information through not just one web site, but search through multiple web sites in your organization.
Know a specific keyword in a document you want to find?
With SharePoint Portal Server, you could also search into document text.
Need to understand how a document evolved to what it is now?
Versioning and check-in/check-out functionality for your documents was enabled.
[Source: Sulava]
All the features above were so successful that they still exist in SharePoint today!
2003
By 2003, Microsoft was seeing SharePoint gaining much more popularity.
The amount of files that businesses were putting in SharePoint sites was growing exponentially.
As a result, businesses were now requesting for more customization options to do more with their files.
Microsoft rose to the challenge.
Microsoft's purchase of NCompass Labs during this period.
This boosted the functionality that SharePoint could offer by combining NCompass Labs' content management technology with SharePoint.
SharePoint Team Services was now renamed to Windows SharePoint Services 2.0 and SharePoint Portal Server 2003.
More was now included without having SharePoint Portal Server 2003.
Windows SharePoint Services 2003 released more options to design web pages, and have basic versioning.
It was now also possible to create custom code, or get code from third-party providers that would run on Windows SharePoint Services to expand it's built-in functionality.
Updates to improve how the backend of the software scaled were implemented. This made it now possible to use SharePoint in even the largest corporations in the world.
But what about end users being able to create their own web sites? Or creating customized forms a person can submit?
What about Business Intelligence (analyzing data of a business)?
This is where the next update released in 2006 came through.
2006
Windows SharePoint Services 3.0 was released and SharePoint Portal Server was updated and renamed to Microsoft Office SharePoint Server 2007.
You could now collaborate more with your team on your own terms.
What does that mean?
You could create sites when you needed it, as you needed it.
This allowed for sites to be more intranet-focused.
Microsoft was not able to compete more with IBM's offerings for intranets – Lotus Notes/Domino.
A new featured called InfoPath allowed you to create forms that people could fill out with information.
InfoPath forms allowed you to add more complex functionality to basic forms in a list.
Enable complex validation for input fields to make sure users enter in the correct values.
Workflows now allow for automation events to occur when data is entered.
How did a workflow work?
Submit a time off request? Have it automatically sent to your manager to either approve or deny.
Write a new article? An email automatically is sent with the document link to multiple reviewers.
If they need request edits, they can add comments and send it back to you with a push of a button, all through SharePoint.
Once you make the changes, you can re-submit it to the reviewers.
Once they approve, it will automatically notify you by email.
What about data that isn't in SharePoint?
Could you see it in Sharepoint without moving it?
Need to view a chart of how company revenue is performing this year?
Pull in all that information and more from your existing company databases using the new Business Data Catalog feature.
With this, you could show data, graphs, chart's and other information right in SharePoint.
Windows SharePoint Services now allowed you more freedom to create sites your team could use and even design branding for your sites.
This new version set the foundation for a service that Microsoft provides that would come to be known as SharePoint Online.
Microsoft would allow you to use SharePoint over the internet from their own machines. You would pay them to maintain it as you access it whenever you need it.
It was until the next 2010 version that they officially invited all businesses this buy service from them.
2009
In 2009, this next version of SharePoint brought enormous improvements.
Windows SharePoint Services 3.0 was updated and renamed to SharePoint Foundation 2010.
Office SharePoint Server 2007 was updated and renamed to SharePoint Server 2010.
As an end user of SharePoint, you were able to get alerts when information was changed through email or SMS text messages.
You were able to not only get business data from databases outside the SharePoint machines, but even write back and update data when needed!
Were you used to using the Microsoft Office Ribbon? Now you can have it help you navigate SharePoint!
A new search technology called FAST Search was offered along with SharePoint.
FAST Search was powerful.
It was considered to have solved missing fine-tuning functionality to give users what they expect when searching through their sites.
[Source: Microsoft]
SharePoint was dominating the competition now.
A whopping 48% of organizations who had an intranet were using SharePoint.
Competitors for deploying your intranet now included IBM's Lotus, Oracle, WordPress, Google Search Appliance, and Google Apps (although it still had a long way to go).
Some organizations even tried to use Facebook for their intranet.
2012
By 2012, mobile browsing was rapidly growing. Some 88% of U.S. adults already owned a cell phone of some kind. This was up from 83% the previous year.
More than 55% of these cell owners used their phone to go online.
Businesses were desiring more attractive SharePoint sites that also worked with mobile devices.
This could increase user engagement and improve their company culture.
Also, with the lower cost of digital storage and the higher usage of larger video files and image sizes, SharePoint needed to keep up.
Microsoft's answer was SharePoint Foundation 2013 and SharePoint Server 2013.
This was more of make a robust, widely used, and stable SharePoint into a even better product for businesses.
More attractive designs using HTML5,CSS3, and more were available now.
Mobile views allowed for phone and tablet support.
[Source Microsoft]
More continuous search crawling for making sure your search results were more current and up-to-date.
The concept of apps that could be installed in SharePoint was introduced. You could even create your own apps and app store in your organizations for people to choose apps from.
At this point, SharePoint Online and Office 365 were picking up.
Now you were even able to run both and have them connect together.
This is called a Hybrid environment. A business uses SharePoint on their own machines and uses Microsoft's machines over the internet. Both are connected and work together.
Hybrid environments allows for organizations to move to SharePoint Online in part or over-time.
Microsoft was all in on getting businesses to the cloud. They beefed up the amount of servers they would provide to make sure their performance and service up-time were excellent for businesses.
There are a lot of benefits to the cloud service offered, but many businesses were also cautious to move their precious information into Microsoft's hands.
In the meantime, while Microsoft is building more trust and credibility, Microsoft would still offer SharePoint as a product that businesses can license on their own internal company servers.
2016
In 2016, Microsoft SharePoint 2016 was released to businesses.
It included features that SharePoint Online already received:
Newer modern page support, more mobile friendly pages, a better supported native Hybrid mode, large file support, and data loss prevention that Office 365 already boasted.
For companies that have moved into SharePoint Online with Office 365, they have been receiving regular updates and new features consistently.
A new feature includes a type of site called Communication Site:
[Source: Microsoft]
Broadcasting to a wide audience and rolling up news for people is now easier to do.
SharePoint Online also is a part of the Office 365 suite. This included different services that connect to SharePoint Online, such as Exchange Online (for email).
Other services that integrate right into SharePoint include Forms (for surveys), Flow (for workflows, an InfoPath replacement), PowerBI (for Business Intelligence), and more.
New features are coming out all the time now with SharePoint Online.
In fact, a roadmap is provided by Microsoft here (https://products.office.com/en-US/business/office-365-roadmap?filters=sharepoint)
Conclusion
SharePoint has been on a long journey with enterprises.
It's been able to dominate with it's integration with Microsoft products.
The ability to customize SharePoint to your organizations needs as much as needed has stood out over time.
The results of how over 300,000 organizations are using SharePoint shows this.
So, what intranet stories do you remember from an organization you worked in?
Did you predict SharePoint would evolve the way it did?
What lessons did you learn from knowing the history of SharePoint?
Leave your thoughts below!